FAQ related to Payment
Q1. What payment method do you accept?
We accept UPI, Paytm wallet, Debit card, credit Card and Net Banking.
Q2. How can I pay for course?
Currently we support several different payment methods. To see the payment methods that are available to you when you wish to purchase a course, please follow the steps below:
If you are new user, please register first on Bodhi portal. Please check general FAQ on how to register on the portal.

Login to the Bodhi portal using username and password

List of all available courses will display when you logged in.

After you find the course you wish to enroll in, click

Send payment via Paytm

button on the course landing page.

You will be directed to the

Merchant

page, which will feature the various payment methods that are available to you (please see below).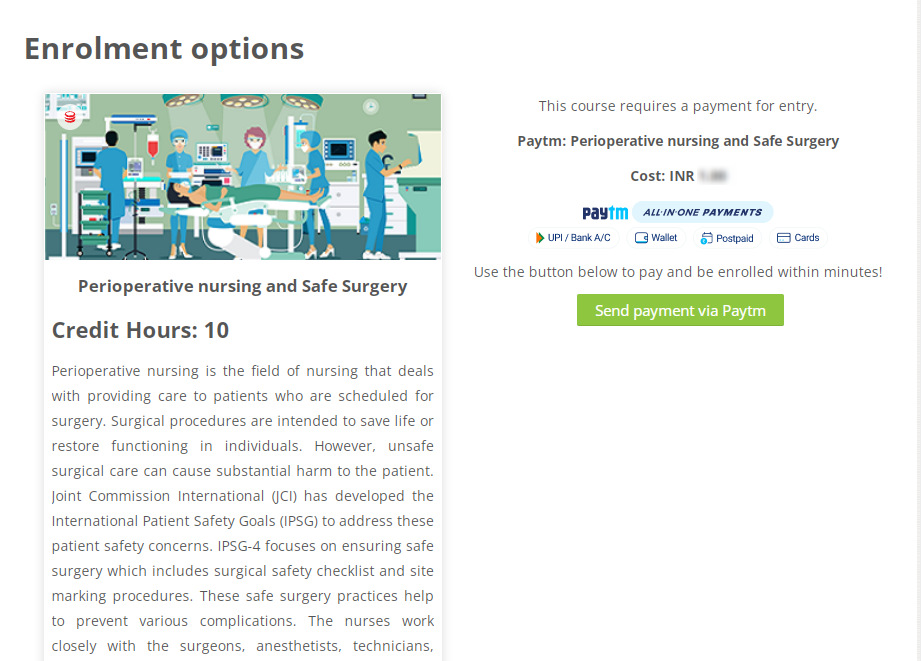 Click on the

proceed

button to finalize the payment.

Once complete, you will be redirected to the course page where you can access the content.
Q3. Your site has only Paytm, can we use Gpay, Phone pe or other payment methods?
Yes, you can use all other payment apps like Phone pe, Gpay, Amazon Pay etc for the payment. Just scan the QR code from any apps and pay. Alternatively, you can also make payment by using your app UPI ID.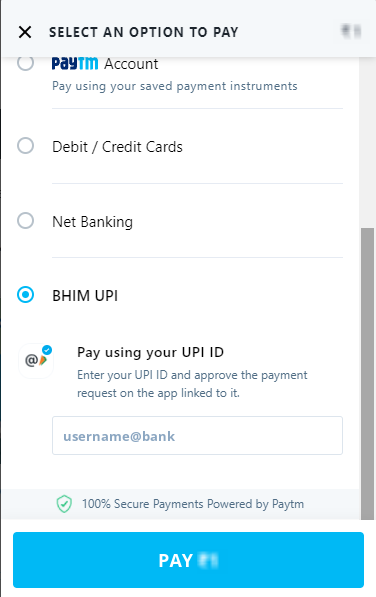 Q4. I don't have my own payment app. Can I use my friend's or family's app for my own payment?
Yes, you can use any of your friend's or family's app for the payment. You can also use Credit card, Debit card or Net banking as a payment method.
Q5. I am not able to scan the QR code in the app. What should I do?
If you're having trouble scanning the QR code, Click on the option "Click to enlarge" just below the QR code and again try to scan. Alternatively, you can also make payment by using your app UPI ID.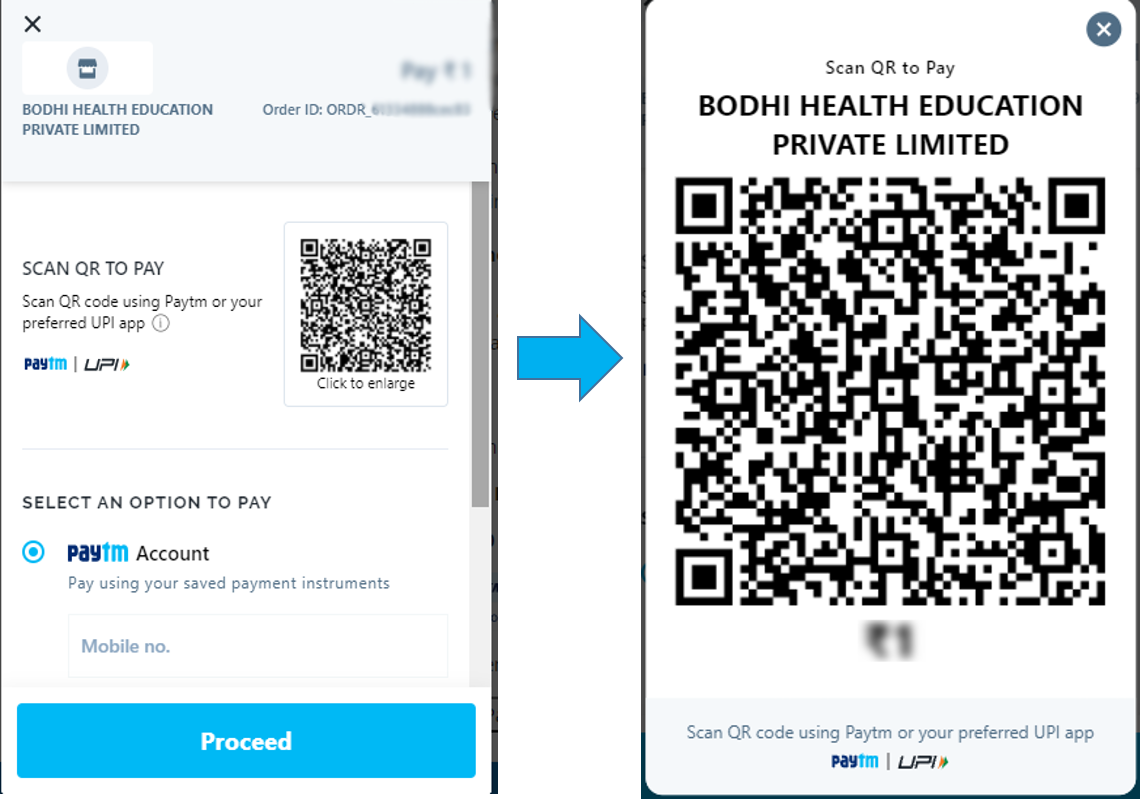 Q6. Will I get any confirmation email from Bodhi regarding course enrollment once payment is successful?
Yes, if your payment is successful, you will receive a confirmation email of your course enrollment from Bodhi Health on your registered email id.
Q7. I submitted a payment but it's not showing up
If a payment you made doesn't show up, check your bank statement to see if the payment was processed by your bank.

If your bank has a record of the purchase, but it's not appearing on Bodhi, check to see if you have a different Bodhi account.

You can contact us at

support@bodhihealthedu.org

with payment receipt and account info. If payment is received to Bodhi, your course will be enrolled. If payment is not received to Bodhi, Please wait for 5-7 working days to refund from the bank.
Q8. I get an error when I try to pay.
Before new payment, check your account if there is any deduction from the bank.
Q9. I want to transfer payment to another course
Unfortunately, Bodhi cannot transfer payments across different courses.
Q10. Is the course fee refundable?
No, once paid it will not be refundable. We recommend you to read course description properly before making the payment.
Q11. Is there any course subscriptions period?
Course subscription period is 1 year.